The Birthday Examiner: International Edition - Personalized Birthday Newspaper 8.5" x 11" Print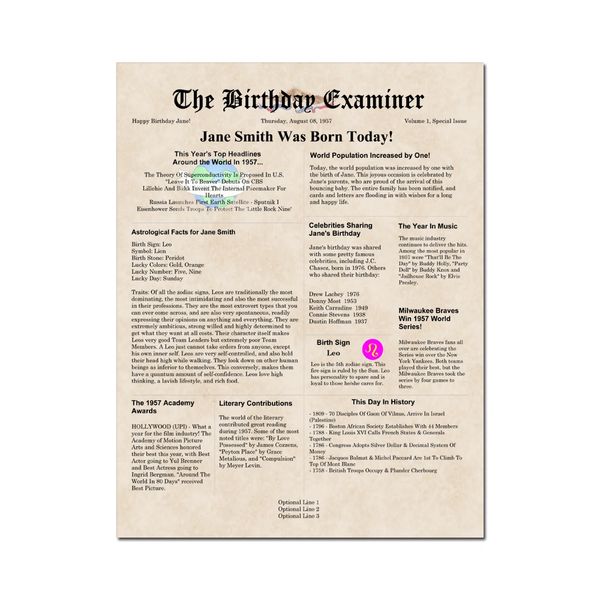 The Birthday Examiner: International Edition - Personalized Birthday Newspaper 8.5" x 11" Print
The Birthday Examiner: International Edition - Personalized Birthday Newspaper Print

The Birthday Examiner is a personalized newspaper that reveals interesting information about the year you were born, or any date between January 1st 1900 and December 31st 2016.

Each page contains news from Around The World, This Day In History, World Series, Literary Contributions, National Price Averages, The Year in Music, The Academy Awards and Other News.

Includes these events:

- This Year's Top World Headlines
- President Notes Birth (US Edition only)
- International Edition includes Astrological Facts
- National Price Averages
- Academy Awards
- Literary Contributions
- Celebrities Sharing Birthday
- The Year In Music
- The World Series
- This Day In History
- Zodiac sign and short description
- Optional Quote of the Day.
- Optional photo.



---


A day doesn't go by, when someone doesn't ask why The Birthday Examiner doesn't do this year's dates? Good question.

Some or most of the news events for this year haven't even happened yet (Grammys, Academy Awards, World Series, etc.) Much of the page would be blank! It would have no way of knowing what the current headline is, or who won Best Picture. See our predicament?

The Birthday Examiner and programs like it never have the current year info as much has not happened. The program is updated each year for the previous year just after the Academy Awards are announced; usually around March (this year, for the last year)

Hopefully this makes sense. :-)
---
Reviews