The Birthday Chronicle - Your Personalized Birthday Newspaper Print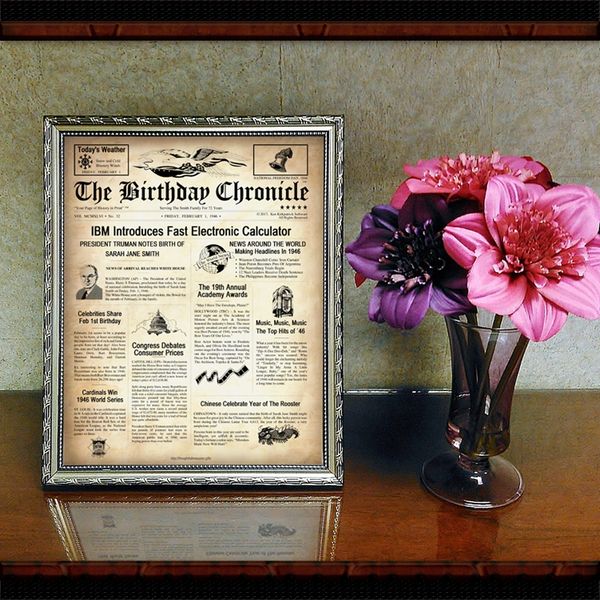 The Birthday Chronicle - Your Personalized Birthday Newspaper Print
The Birthday Chronicle - Personalized Birthday Newspaper Print

The Birthday Chronicle is a personalized mini-newspaper front page, including graphics, that will be treasured for years. The printout includes a greeting, by name, from the then-President of the United States, plus newspaper headlines and stories from the recipient's year of birth.  It is an amazing gift for friends, family, co-workers, employees, or anyone you want to give a unique gift to that combines nostalgia and history, people celebrating their birthdays can look back at the world as it was on the day they were born.

News sections include:

1. The weather forecast, as well as the day and date of birth.
2. The president at the recipient's time of birth announcing your recipient's birth.
3. World headline news from the year.
4. Celebrities born on the same day.
5. A blurb announcing the World Series Winner
6. An article about consumer prices for that year
7. Academy Award winners
8. Top music hits
9. And the Chinese Zodiac

Please note:
Only dates from January 1, 1900 to December 31, 2016 are available.



---


A day doesn't go by, when someone doesn't ask why The Birthday Chronicle doesn't do dates from this year?

Good question.

Some or most of the news events for this year haven't even happened yet (Grammy's, Academy Awards, World Series, etc.) Much of the page would be blank! It would have no way of knowing what the current headline is, or who won Best Picture. See our predicament?

The Birthday Chronicle and programs like it never have the current year info as much has not happened. The program is updated each year for the previous year just after the Academy Awards are announced; usually around March.

Hopefully this makes sense. :-)
---
Reviews