I Am Not There - Memorial 6 x 8 Inch Slate Plaque with Plastic Feet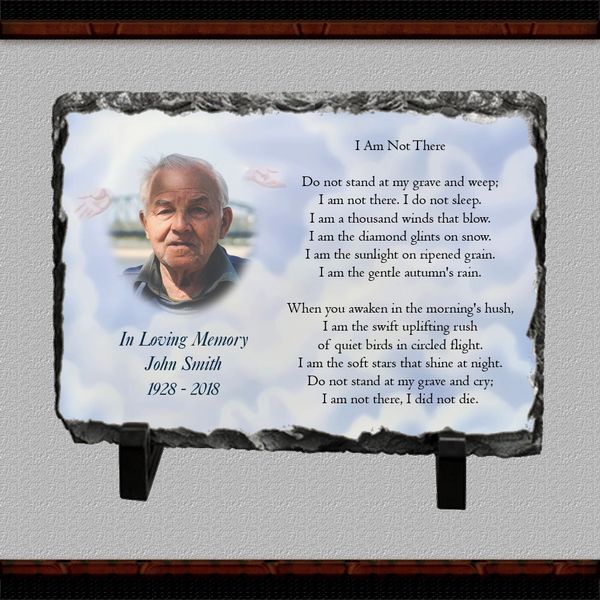 I Am Not There - Memorial 6 x 8 Inch Slate Plaque with Plastic Feet
I Am Not There - Memorial 6 x 8 Inch Slate Plaque with Plastic Feet

This first name meaning slate plaque is made using our line of natural photo slate and depicts an image of your loved one in the hands of the lord in the sky with the poem "I Am Not There".



About our slate plaques:

Our photo slate rock plaques are made from polished natural metamorphic rock, with natural edging, producing stunning images using a process called dye sublimation imprinting. Every plaque comes with a nice black display stand (feet), and have natural imperfections that make each plaque unique. These plaques are suitable for memorials, gifts and trophies for garden clubs.


The plaque measures approximately 5.85" x 7.8" x .375" and comes with black plastic "feet". Because they are made from natural slate each piece will have it's own unique look, and the size can vary by up to +/-0.4".


Please send your photo to me at customerservice@thoughtfultreasures.gifts or rely to the confirmation email we send and attach the photo.



*Please Note:

The photo you send should be at as high a resolution ans possible and should have the same aspect ratio as the product you are ordering (it should fit into the same shape as the product you are ordering).

The file should be a high resolution photo, i.e.: 5" x 7", 1200 x 1800 pixels @ 300 dpi, or 5MP or higher setting on your digital camera.
Reviews