Embrace - Personalized First Name Meaning / Dual First Name Meaning Print - 5x7, 8.5x11, or 11x14 Print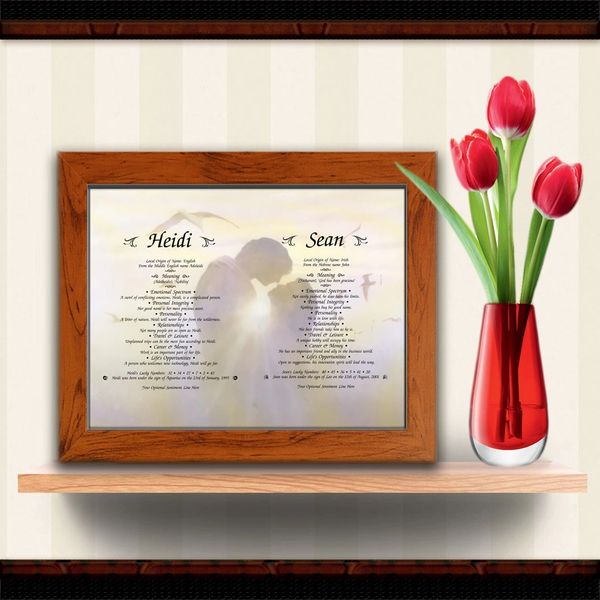 Embrace - Personalized First Name Meaning / Dual First Name Meaning Print - 5x7, 8.5x11, or 11x14 Print
Embrace - Personalized First Name Meaning / Dual First Name Meaning Print
We know that everyone loves to see their name in print!
With that in mind we will create a beautiful, personalized first name meaning keepsake for you or someone you love that will be cherished for years to come.
We have hundreds of backgrounds to choose from which can be printed to professional photo paper in your choice of sizes, finish, and mat frames.  We also have a database of over 250,000 names, and growing, which means we will have the name you are looking for!
Each name meaning shows the origin of the name and has positive personality traits including; emotional spectrum, personal integrity, relationships, travel & leisure, career & money, and life's opportunities.  Additionally, you can choose to add the recipient's birthdate, lucky number with zodiac sign, and an option sentiment line from you to create an even more unique personalized keepsake.
These name meaning prints make amazing gifts for babies and children or anyone on your gift list.  Some great events to give one of these prints for are birthdays, holidays, graduation, christening, Mother's Day, Father's Day, and much, much more.  Some of the backgrounds we offer work well for printing dual name meanings making them the perfect gift for weddings or anniversaries.
Basic Print:
- Origin
- Meaning
- Personality Traits:
- Emotional Spectrum
- Personal Integrity
- Personality
- Relationships
- Travel & Leisure
- Career & Money
- Life's Opportunities
Optional:
- Birth date
- Lucky Numbers & Astrology
- Inspirational Verses
- No Lucky Numbers/Astrology/Verses
- Sentiment Line
Reviews