Angels & Kittens First Name Meaning 6 x 8 Inch Slate Plaque with Plastic Feet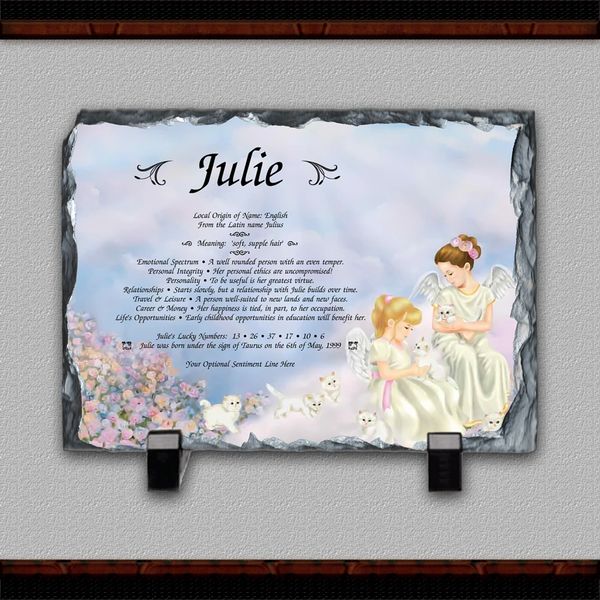 Angels & Kittens First Name Meaning 6 x 8 Inch Slate Plaque with Plastic Feet
Angels & Kittens First Name Meaning 6 x 8 Inch Slate Plaque with Plastic Feet
This first name meaning slate plaque is made using our line of natural photo slate and depicts an image of two female angels sitting in a cloud garden with lots of kittens.  This is an amazing gift for a young girl receiving her first holy communion or baptism, and is also a great gifts for birthdays and holidays.
About our slate plaques:
Our photo slate rock plaques are made from polished natural metamorphic rock, with natural edging, producing stunning images using a process called dye sublimation imprinting.  Every plaque comes with a nice black display stand (feet), and have natural imperfections that make each plaque unique.  These plaques are suitable for memorials, gifts and trophies for garden clubs.
The plaque measures approximately 5.85" x 7.8" x .375" and comes with black plastic "feet".  Because they are made from natural slate each piece will have it's own unique look, and the size can vary by up to +/-0.4".
About our first name meaning prints:
These first name meaning prints can be customized to suit your needs and to reflect the relationship between you and the person you are giving it to. Almost any name can be made from our database of over 250,000 names. All names will have positive meanings and traits. You can request the wording in any of the traits can be changed to your liking, and you can add the recipient's birth-date, lucky numbers with zodiac sign or an inspirational verse. An optional sentiment line can be added to your print for that extra personal touch.
Basic Print:
- Origin
- Meaning
- Personality Traits:
~ Emotional Spectrum
~ Personal Integrity
~ Personality
~ Relationships
~ Travel & Leisure
~ Career & Money
~ Life's Opportunities
Optional:
- Birth date
- Lucky Numbers & Astrology
- Inspirational Verses
- No Lucky Numbers/Astrology/Verses
- Sentiment Line
Reviews